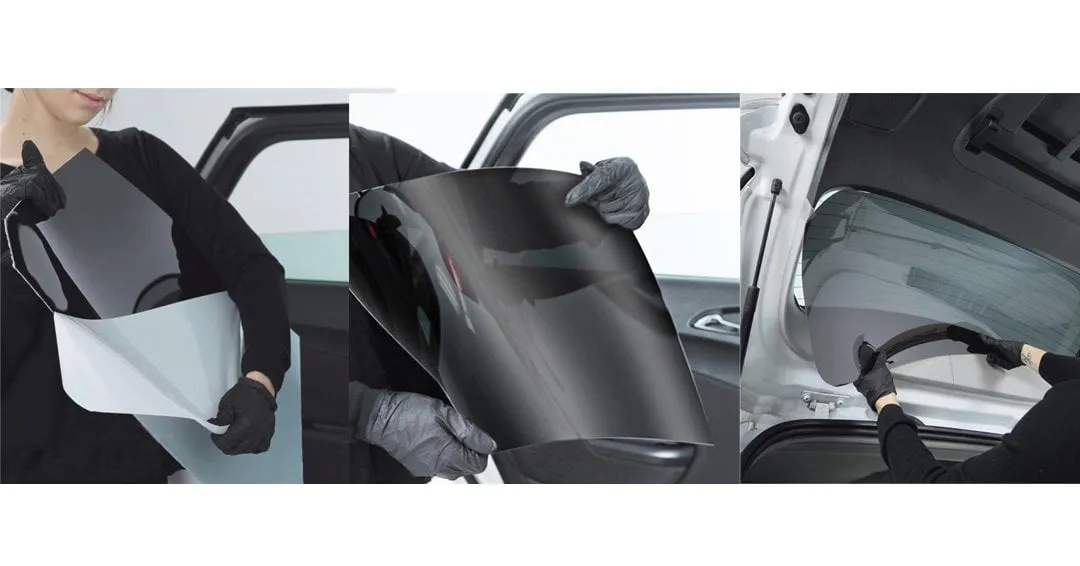 SOLAR FILM VS. SOLARPLEXIUS
Tint your car easier than with sun film
---
Sun film
Sunscreen film, or so-called solar film, is a familiar solution for many when it comes to tinting car
windows. Solarplexius sunscreen works much like solar film, but even if the product has been in
Sweden for more than 30 years, it may still be unclear to many how Solarplexius tinted
windowshades differ from ordinary solar film.
Here are the differences between solar film and Solarplexius.
| Solarplexius sun protection | Ordinary solar film |
| --- | --- |
| Always delivered pre-cut for each unique car model | Film on a roll |
| Easy installation without water or glue | Must be cut for fit |
| Assembly in about 15 minutes | Solar film is wet mounted |
| Hard but flexible tinted material | Complicated to assemble yourself |
| No tools required for assembly | Installation requires tools |
| Made of unbreakable polycarbonate | It can take weeks to make the sun film look good |
| Unbreakable, durable polycarbonate | Easy to scratch, e.g. due to seat belts, children, toys, animals, luggage, etc. |
| As easy to disassemble as to assemble | Loosens easily and begins to flake |
Traditional Sun Film
Solar film is usually sold packaged on a roll from which a piece of is cut to fit each window to be
tinted. The same product is therefore suitable for several different car models and windows. A
nice end result, however, requires precise cutting according to the car's window shape or
alternatively the purchase of a solar film that is cut into pieces shaped after the car's window.
INSTALLATION OF THE SUN FILM
Tinting the car window with a regular solar film can be done yourself, but the work can be very
challenging if there are no proper tools or previous experience of assembly.
If the installation cannot be carried out in a heated garage, the weather conditions must be
taken into account; in cold weather, the sunscreen film slowly adheres to the glass, and in a
non-clinical environment, debris or dust can easily fly in under the tinting film during assembly.
In addition to advanced cutting, mounting solar film is also a time-consuming job for a non-
professional. Since the solar film is mounted on site by gluing them to the car windows, it is
easy to make mistakes.
To mount solar film, the car windows must be soaked with soapy water. Careful work is required
and the installer must be sure that the solar film does not crease and that no air bubbles form. In
addition, it is important to be aware that, unlike a flat window, car windows have convex
surfaces, which makes installation extra difficult.
SOLARPLEXIUS SUN PROTECTION
Unlike tinting film for car windows, Solarplexius sun protection is made of flexible
polycarbonate. The discs are unbreakable and can withstand shocks and sharp bends. The sun
visor is basically like a hard but flexible sun film, but with the advantage that the windowshades
are pre-cut to each car model and you mount them easily without water, glue, or the risk of
bubbles.
Solarplexius tinted pre-cut sunscreens are always delivered with a perfect fit as they are
manufactured according to your specific car model. You do not even have to measure the
windows on your car, Solarplexius' database has exact window dimensions for more than 4,500
cars. Which means that you can order perfectly adapted sun protection for your car windows by
simply entering the car make, car model, and model year when ordering.
Read more about Solarplexius sun protection here or see the price of your car in our carfinder:
INSTALLATION OF SOLARPLEXIUS SUN PROTECTION
Solarplexius sunscreens are designed for quick and easy installation. The rigid but very flexible
material means that you can easily slide the Solarplexius sun visor in place between the car
window and the car's interior.
The installation does not require glue, soapy water, or tools besides perhaps a towel. The only
preparation is to wash and wipe the inside of the car window with a microfiber cloth. If
necessary, the surroundings of the car window can also be protected, for example with masking
tape, to prevent possible scratches.
Protective gloves to avoid fingerprints and grease stains are included in the order. When all the
sun visors from Solarplexius are in place, they are attached by simply wedging the supplied
brackets between the sun visor and the car's interior without causing any damage to the car.
Unlike a regular sun film, it is not necessary to shrink the Solarplexius toner by heating to
remove bubbles, as the specially made sunscreens fit perfectly in the car windows. Solarplexius sun
protection is also very easy to disassemble when needed thanks to the smart mounting method and the flexible material.
See complete assembly guide here.
See the price for your car and order Solarplexius sun protection here!