Guide to install the Solarplexius Tints on Volkswagen Caddy Windows
---
At Solarplexius, we are proud of the simple DIY installation of our car tints. Without any experience, anyone can tint their car windows in no time.
About 85% of all cars in our range have the same assembly principle.
But in this article, we want to focus on cars that have a different mounting technique/process.
We have chosen Volkswagen (VW) Caddy as an example here to illustrate. And we want to show you how easy it is to tint the windows on cars with sliding windows and other specific features.
The installation of these car tints in the VW Caddy is no problem, even though the car can vary with several different combinations of windows. You can have fixed windows, sliding windows that can be opened, different lengths of side windows and two distinct types of rear windows. To make it easy for our customers, we have chosen to only show a few items on our website to make it easy to order. The only thing you should think about is whether your Caddy is a short or long (maxi) model. Once we have received your order, our support team will contact you to find out exactly which type of car windows your car has. Then we produce your order, it is unique to your Caddy.
When you have received your order, you should think about this:
– Check that your Solarplexius delivery is not damaged.
– Before you start assembling, check that your delivery matches the windows of your car. To do this, place the Solarplexius panels on the outside of the glass.
– Make sure your car's windows are clean, dust-free, and dry before installation.
SUN PROTECTION CAR WINDOW TINTING
FOR VOLKSWAGEN (VW) CADDY
We have pre-cut sunscreen tints for all Caddy models in our range. The older versions (K9) as well as the Caddy Maxi and the latest version (Generation 5) can be quickly and easily tinted with Solarplexius tints.
As VW Caddy is available in many equipment variants, we limit ourselves to the number of windows in our store. After your order, our customer service will contact you to determine the right configuration for you.
We have Solarplexius for all types of windows and can therefore offer tinting for each Caddy model.
HERE YOU CAN SEE THE INSTALLATION VIDEO FOR VW CADDY
STEP BY STEP ASSEMBLY
INSTALLATION OF CAR TINTS FOR SLIDING WINDOWS IN VW CADDY
Place the sunshades against the car window from the inside.
When you are happy with the placement, use the supplied sliding windowsills (no heel) to hold the windows in place.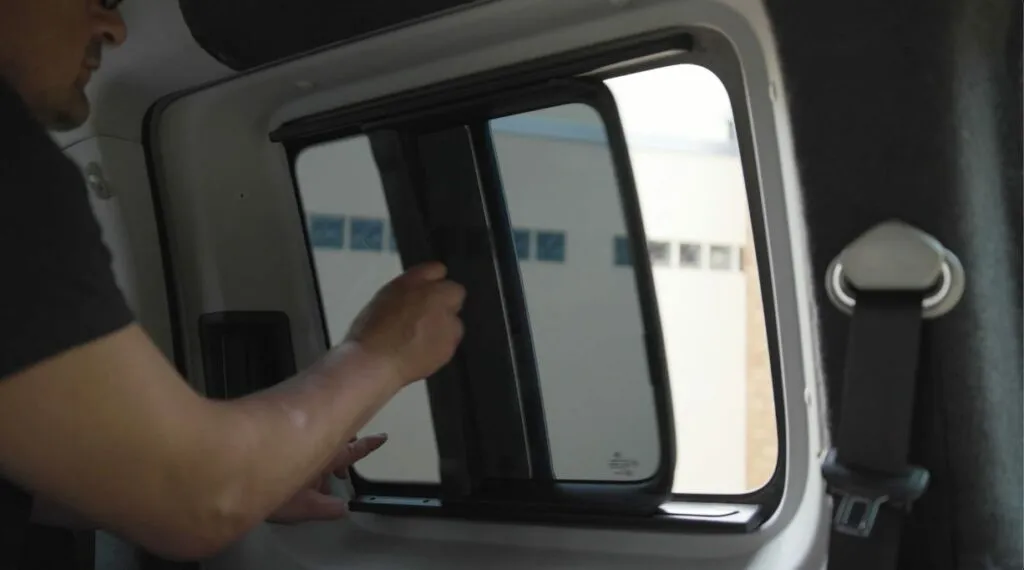 SLIDING WINDOWS CAN BE OPENED WITH SOLARPLEXIUS SUN PROTECTION TINTS
TINTING OF THE SIDE WINDOWS IN CADDY
The Solarplexius for the side windows is simply placed behind the car's interior / metal edge by bending our panels. Do not worry, our sunscreen panels are unbreakable. Here, too, the discs/panels are attached with mounting clips that lock the disc.
REPEAT THE INSTALLATION PROCEDURE DESCRIBED FOR ALL SIDE WINDOWS.
TINTING OF THE REAR WINDOW WITH SOLARPLEXIUS SUN PROTECTION TINTS
The rear window of the VW Caddy can also be tinted in no time with the Solarplexius. In the same way as the side windows, you bend our disc behind the car's interior. Because the rear window is large, it can in some cases be easier to mount it by crawling into the cargo space and closing the door. Note that you have someone on hand who can open the tailgate when you have installed the Solarplexius.
Finally, secure the rear window with the included clips.
It is so easy to tint the windows on your VW Caddy with Solarplexius. You can find many installation videos on our YouTube channel.